STEM 101 is comprised of several hands-on tasks to help you understand your student's grades and their learning environment here at the STEM School.
You may complete the above learning in any order and you may seek help from other parents, or STEM faculty member.
This year the staff at the STEM School decided to adopt Google Classroom as the online learning interface with students. Watch the video below to get an idea on why we decided to adopt this new learning platform.
TASK ONE: Signing up to receive a parent Google Classroom report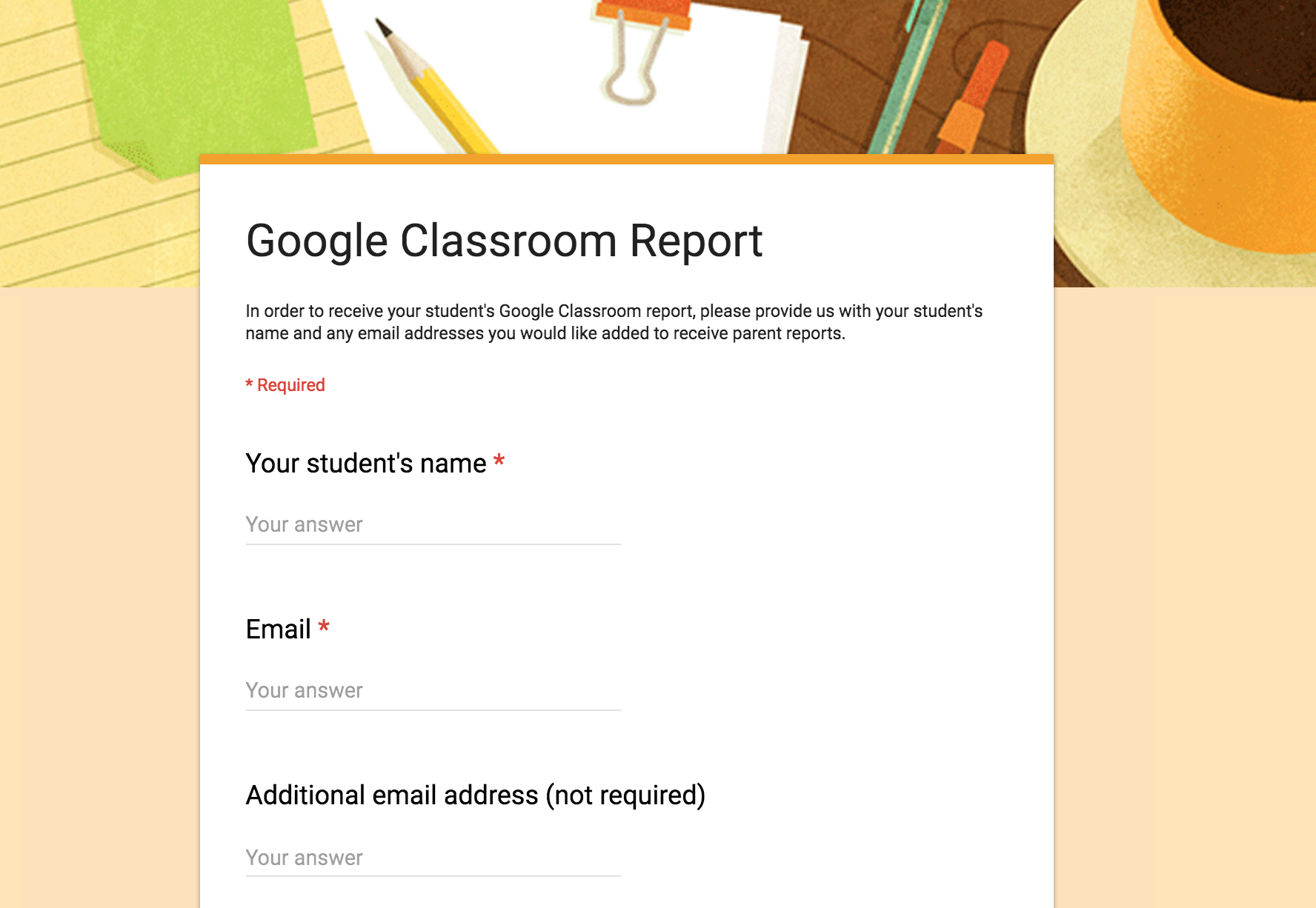 Task: Sign up to receive Google Classroom reports by clicking the picture or use the following link to help us add you to your student's account. Click here
Only teachers and administrators from your student's school can send these invitations.
Note: Classroom reports help keep track of your student's classroom progress through guardian email summaries. You can choose the frequency of the emails-daily or weekly-and you can unsubscribe or remove yourself from Classroom at any time.
Guardian email summaries include:
Missing work-Work that's late at the time the email was sent
Upcoming work-Work that's due today and tomorrow (for daily emails) or work that's due in the upcoming week (for weekly emails)
Class activity-Announcements, assignments, and questions recently posted by teachers
As a guardian, you must receive and accept an email invitation before you can receive email summaries.
Please allow us a few days to setup your account. If you don't recieve an email to setup your account in the next 5 days, email Mr. Otero at Otero_J@hcde.org
Click here to see a sample emailed report: Sample Report
TASK TWO: Finding practice assignments and graded assignments in Google Classroom
Use website: classroom.google.com and your student's HCDE Google Account and password.
Or use the Google Classroom app on your student's iPad.
Task: Locate the following items in Google Classroom by logging into your student's classroom
A classroom
A classroom calendar
A practice assignment
A LT grade assignment
Feedback given from a teacher to a student
TASK THREE: Understanding Grades
Task: Watch video
TASK FOUR: Sign into PowerSchool and locate LT grades
Task: Review your student's current grades in PowerSchool by:
Logging into PowerSchool
Locate an LT that has been graded
TASK FIVE: Complete an iSTEM Worksheet for or with your student

Task: Complete an iSTEM worksheet Planning and remediation
Copy of worksheet, click here: iSTEM Worksheet
iPad care and iPad safety
TASK SEVEN: GradeCraft
GradeCraft:
Open the GradeCraft App on your student' issued iPad.
Login using their student username and password
Find the Assignment banner and locate one assignment that your student has received feedback on.
TASK EIGHT: Add your students Google Classroom Calendar to your device
Task: Add your student's Google Calendar to your device (iPad, Phone, Tablet)
Sync Calendar on an iPhone or iPad:
On the App Store, download the Google Calendar app .
Sign in with your student's HCDE Google Account. Once you sign in, all your student's calendar events will be synced with your device.
Sync Calendar on a Droid:
Go to Google Play

and download the Google Calendar app

.

Sign in with your student's HCDE Google Account. Once you sign in, all your student's calendar events will be synced with your device.
ASSESSMENT: COMPLETE STEM 101 QUIZ
Take the final check out quiz! Click here: